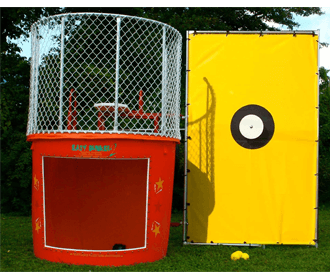 The Most Fun Dunk Tank Rental In Indianapolis
Setup Area: 10'6"W x 6'9"D x 8'H




At Jump N Play, we love having fun, and the dunk tank in our experience is guaranteed to provide you with loads of fun. Whether it is dunking the boss at a company retreat, a fundraising event, or just dunking your next-door neighbors at a charity, we have just the dunk tanks for you. Honestly, it is the best, most fun piece of equipment that we'd even recommend for kids' birthdays, so as long as the person being dunked can swim!

When you rent a dunk tank, it is towed into position at your venue, after which it is filled with around 2000 liters of water. The games you play all depend on you; you can have a lottery for who resides in the dunk tank before everyone takes their turn at throwing the ball at the victim, hoping for them to get dunked.

While dunk booth rental in Indianapolis tends to be the most popular during summer, ours is available all year round. Plus, after the event, our team makes sure that the water is drained properly, ideally in the service of mother nature!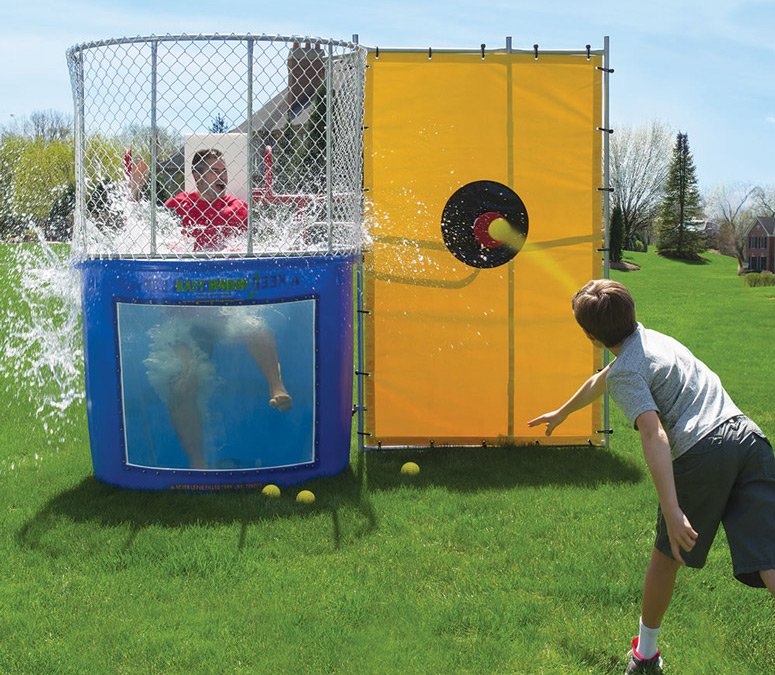 Rent Our Dunk Tanks in Indianapolis Today
We are the leading dunk tank rental in Indianapolis for a reason, and that reason is we care about our customers. Whether you are on a budget and need a single dunk tank or are planning a charity event with multiple dunk tanks, we can help you.

Call us today to get a quote and to book a dunk tank for your next event.

Kids love playing in the water during summer, and a dunk tank is probably the best way to do it. However, you probably don't have a dunk tank sitting around the backyard, which is what makes our dunk tank hire service so important. Not only can you hire a dunk tank for your kids' party, but it can come accompanied by a few professionals who are there to make sure that everyone is safe. That way, you don't have to worry about anyone getting hurt. The only thing hurt will probably be a few egos!

A Dunk Tank Rental In Indianapolis is Great for a Summer Party or Fundraising Event
Anyone who lives in Indianapolis knows that there are many places that have dunk tanks for hire, so why should they hire from us? Well, here are a couple of reasons why you may want to consider hiring our dunk tanks:



We have a pretty large selection of dunk tanks which means if you need more than one or two, we most certainly have them.




Our dunk tank rentals are competitively priced and delivered to your doorstep.




We make sure to double-check that the dunk tanks you rent are safe, clean, and in perfect working condition.




You can hire a dunk tank for any type of event so long as there is easy access to a water source.



If you are planning a summer party, make sure to book your dunk tank a few days ahead of time since they tend to be extremely popular. Despite the number of dunk tanks we have, there are times when we don't have any in stock, so book early for the best dunk tank rental in Indianapolis.