35 Ft. Radical Run Caution Rock Climb Slide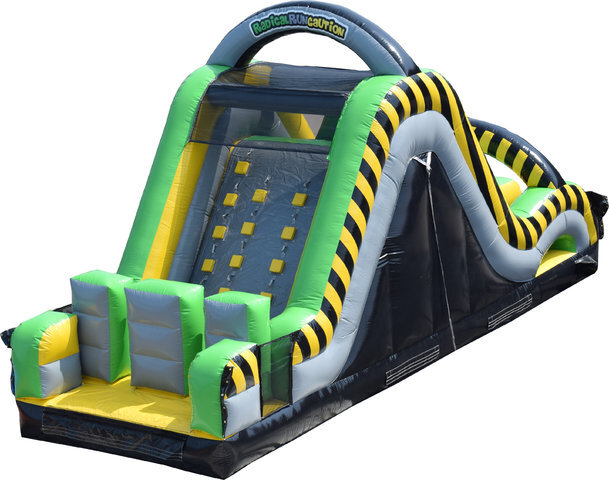 Available Booking Options
| | |
| --- | --- |
| Standard - Up to 6 Hours | $389.00 |
| Over 6 Hours | $447.35 |
| Best Deal/Overnight | $505.70 |
| Add Extra Day | $583.50 |
Setup Area: 33'L x 14'W x 16'H
Actual Size: 30'L x 11'W x 16'H
Monitors: 1
Description
35 Ft. Radical Run Caution Rock Climb Slide
Introducing our newest addition to the inflatable fun family - the 35 Ft. Radical Run Caution Rock Climb Slide! This inflatable slide is perfect for those who want to add an exciting and challenging element to their event or party. Sitting at an impressive 35 feet long, this slide offers a thrilling experience for both kids and adults. The Caution Rock Climb feature adds an extra level of excitement as participants climb up the steep rock wall to reach the top. Once at the top, they can take a deep breath and prepare for the exhilarating slide down. Made with high-quality materials, this inflatable is durable and safe for all participants. The bright and vibrant colors make it an eye-catching centerpiece for any event. Whether you're hosting a birthday party, school carnival, or corporate event, the 35 Ft. Radical Run Caution Rock Climb Slide is sure to be a hit. Book now and get ready for a day full of fun and adventure!
The 35 Ft. Radical Run Caution Rock Climb Slide is the perfect addition to any event or party where you want to provide your guests with a fun and challenging experience. This inflatable slide is designed to provide a thrilling adventure, with its steep climb and exhilarating descent.The Radical Run Caution Rock Climb Slide is made from high-quality materials that are designed to withstand the wear and tear of constant use. The slide is constructed from heavy-duty PVC vinyl, which is both durable and easy to clean. The slide also features reinforced stitching and commercial-grade zippers, ensuring that it can withstand the weight of multiple users at once.The slide is designed with safety in mind, featuring safety netting at the top of the slide to prevent users from falling off. Additionally, the slide features inflatable bumpers at the bottom, which help to cushion users as they reach the end of the slide.
This inflatable slide is perfect for a variety of events, including birthday parties, corporate events, school carnivals, and more. It can accommodate up to four users at a time, making it a great choice for larger events. The slide is also easy to set up and take down, making it a convenient option for event planners and party rental companies.Overall, the 35 Ft. Radical Run Caution Rock Climb Slide is a must-have for anyone looking to provide their guests with an exciting and memorable experience. With its durable construction, safety features, and thrilling design, this inflatable slide is sure to be a hit at any event.