The Best Water Slide Rentals In Indianapolis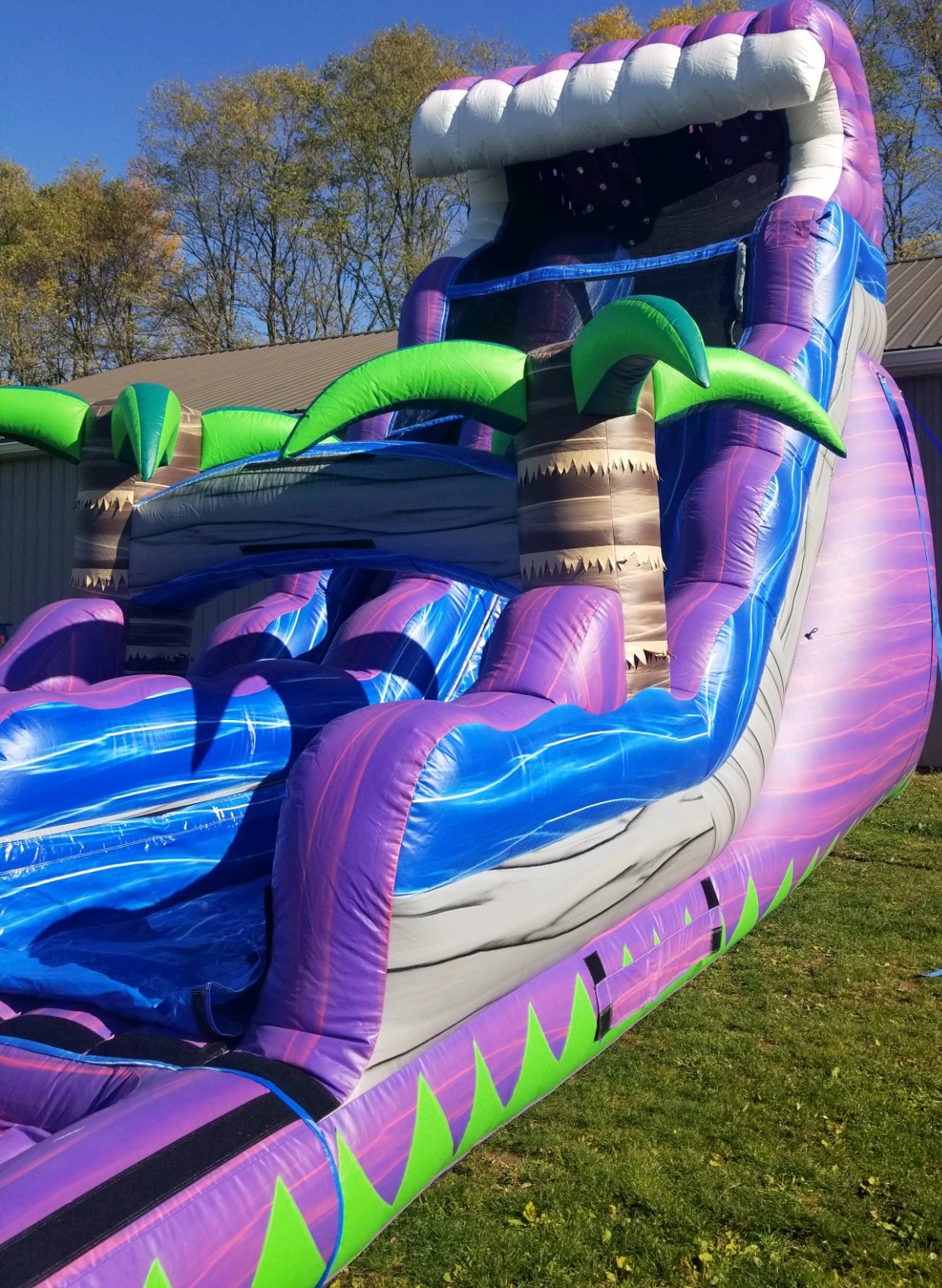 The Most Exhilarating Water Slide Rentals In Indianapolis
Water slides are meant to be fun, exhilarating, and breathtaking; anything short of that is a disappointment. That's why our water slide rentals are stacked with some of the largest, most steep water slides, designed to dunk kids as young as 3 and young adults in their 20s, making them the perfect addition to any party.

Our growing inventory of what is already one of the widest selection of water slides are easy to rent, affordable and delivered at your doorstep. Not sure what type of water slide(s) will work best for your party? You can leave the selection of water slides up to our professionals. Our team will use their years of experience and the type of party you're planning to deliver water slides that illicit some of the loudest screams of joy you've ever heard!

We make sure all our water slides are perfectly safe after having been extensively tested. Every water slide for rent is of the highest quality and is exactly what you see on our website.

We invite you to browse through our complete selection of water slides, but you can also cut to the chase and give us a call if you have any questions or would like to book the largest, most fun water slide in our inventory.

12' Rainbow Double Lane Inflatable Water Slide (wet)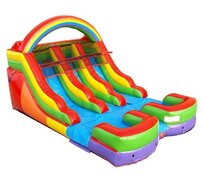 16ft Tropical Paradise Water Slide
19ft Purple Crush Tsunami Water Slide with Pool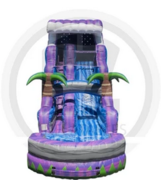 19ft Tropical Paradise Water Slide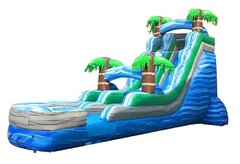 20ft Dual Lane Water Slide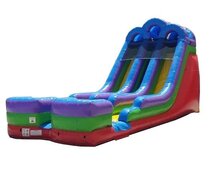 22ft Lava Single Lane Water Slide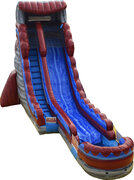 22ft Volcano Single Lane Water Slide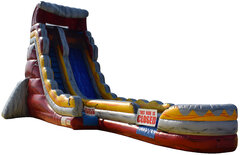 35ft Tropical Dual Lane Slip N Slide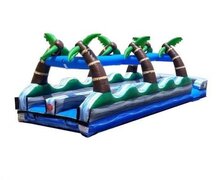 The Most Fun Dunk Tank Rental In Indianapolis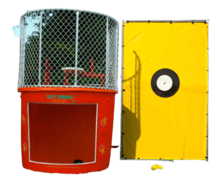 The Largest Selection of Water Slide Rentals in Indianapolis
We have more than a few dozen water slides for rent; in fact, we have one of the largest selections of water slides in the city. Whether you want to plan a huge summertime party in the backyard and need multiple water slides or a small birthday bash that probably needs a single water slide, we have more than what you need.

We have water slides that include ones 13feet tall, which are perfect for kids around three years and above. Young adults may probably enjoy sliding down our 19 feet tall slides; regardless of what you are looking for, we probably have what you need, plus some more!

While size does matter, we also have various types of water slides. The dual lane version tends to be particularly popular amongst families planning a small party primarily because it allows kids or adults to compete against each other. The dual-lane versions are available in just about all sizes, including the large 19' inch version.

Then there is the slip and slide type side that measures 30 feet, which takes up more space but offers a whole different type of fun.
Why Hire Water Slides from Jump N Play Party Rentals in Indianapolis?
We have and continue to be the go-to place for people searching for water slide rentals in the city. In fact, our large and ever-growing inventory of water slides for hire means that you'll always find something new to spice up your party.

Our selection of water slides cater to people of all ages and can be delivered across the city. Furthermore, our water slides come with a team of professionals who will set up and inflate the water slides for you, so you don't have to worry about doing it yourself.

Here are a few more reasons to choose Jump N Play Party Rentals:

* We deliver water slides and anything else you hire on time.
* You will find an extensive inventory of water slides on our website.
* Every slide can be booked online.
* You get treated to excellent customer service, which means you can call to get your questions answered at any time.

Have a question about our water slide rental service? Call us today to find out more.

Many people are concerned about the cleanliness of our water slides. Trust us when we tell you that cleanliness and safety are two of the most important things; it is a top priority. We work hard to make sure that every water slide available for rent is clean, sanitized, and delivered in a way that safe to use.

Whether it is a summer backyard bash, a large community party, or any other type of event, our water slides are guaranteed to deliver hours of fun minus any danger of contamination. We also work with homeowners to ensure that the water drains out efficiently. At the end of the day, we are responsible for making sure that the slides are set up, operate, and removed from the venue, so you have nothing to worry about.

Hiring a water slide has never been this easy! When you choose our water slide rentals Indianapolis, you can be assured of an excellent service that delivers nothing but pure bliss to everyone at the party.

Want to hire a water slide? Need to hire multiple water slides? Have a particular type of water slide in mind? Tell us about it! We will be more than happy to work with you to ensure that your party gets the water slide(s) it deserves.